We are here in Florida for another winter. This year we will stay for six weeks instead of five. We want to be here for baseball spring training. Even though last year's spring training started late, we left too early, even if it had started on time.
in early january
I have to admit, it hasn't been a great January for me. As you know, I lost a good friend and her visit and her funeral were on the 1st and 2nd of January. It helped me to write this post about it, but I had problems before then.
If you've been following me for a while or read some of my previous posts, you know that I suffer from spontaneous vertigo. It's mostly under control, but it flares up from time to time. It's not as debilitating as it used to be, for which I'm grateful. But small flare-ups kill my confidence and energy.
I was having lunch on January 8th when a spell hit me. I started to walk towards the bedroom to lie down and fell. That has never happened to me before. While walking isn't easy during a spell, I've never felt out of control. I hit my knee pretty good and I can still feel the bruise even now.
I've gotten to the point where I can almost tell when I might have a spell. My head feels crooked and my vision is a bit blurry. But on January 10, a day when I thought I was feeling great, I had a spell while driving. Ok, now I'm really scared. Fortunately, I was almost home and it was fast. It was fine when I got to our garage. But he was definitely nervous.
I was mostly fine as we prepared for our trip to Florida. I had a few loose ends to iron out and then pack up. I had good grades from last year which helped. However, I didn't do a great job packing shirts. I didn't bring many!!
We were a bit excited about the snow we had the day before we left. We were even more excited that we were gone for a while.
The three day trip
Just a couple of weeks before we were to leave, Tim made a change to our route. Instead of going south first, we were going to go east and spend our first night in a suburb of Cincinnati, Ohio. He knew the area because he had been there many times to the Western & Southern Open (tennis). And we had reservations at a favorite restaurant.
The reservation meant we had a time slot. So, we got up early to be on our way by 7:00. This would be our longest day of driving and we needed to be at the restaurant by 7:30.
It all started out great, but we stopped at a rest area around Galesburg, Illinois and as we were getting ready to leave, I had a spell. It didn't last long, but I was afraid to eat long after that. I never know what causes it.
I was fine the rest of the day, but nervous. At the restaurant that night, I had a couple of little pangs. Great I thought. But I was able to enjoy my food.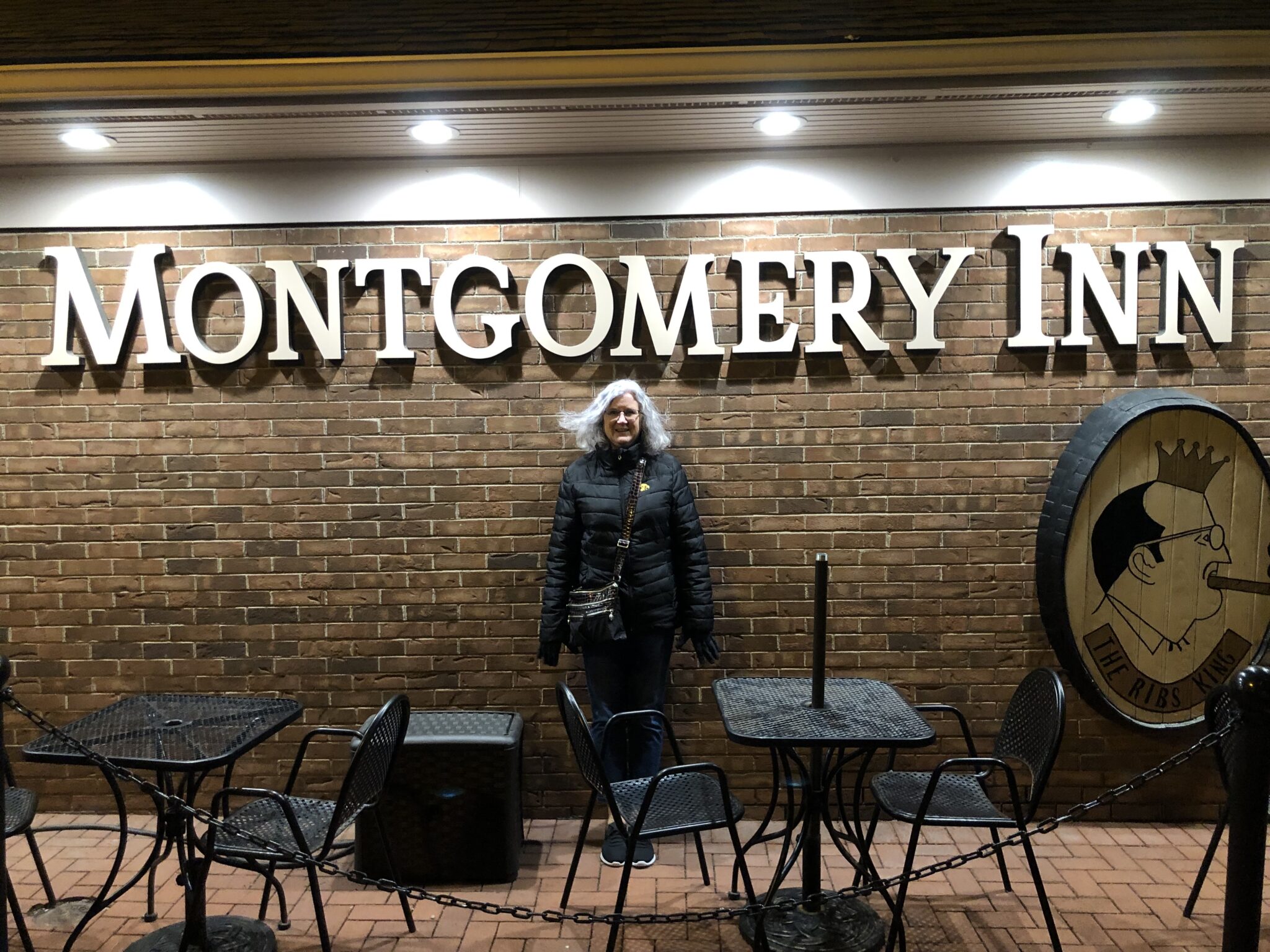 Long story short, I had a spell that night in bed, another one the next day in the car (which was a bit worse and I missed driving around Chattanooga), and then another one that night in bed. I was very worried about our third day of driving. But I made it. I ate very little and I didn't work on my knitting project anymore, since the two moments in the car came after knitting for a while.
So far, I've done well here in Florida. I've had a couple of days where my head didn't feel quite right, but nothing I can't handle. I'm pretty sure stress is a trigger and I hope finally getting here has made things better. However, it is unlikely that he will go somewhere alone for a while.
Things we did differently this year
Last year, before we left, I made a note of the things I wouldn't bring back and the things I wanted to add to the packing list.
If you followed me last year, you know I was wondering if I'd want a printer here. I even considered buying one just for our trip. But I did not. We did well, but I missed him a little. I don't print a lot, but it's nice to be able to when you want something.
Also, we have an HP Instant Ink plan and when we got back after sitting idle for almost six weeks the printer was not happy. The ink cartridges were dry and it took me a while to finally get everything fixed. So this year I wrapped it in bubble wrap and we brought it with us. I haven't used it much, but I'm glad it's here.
I also hated the knives in this condo. In fact, every condo I've ever stayed in has horrible knives. So, I packed up some of our favorite knives this year. We haven't done much cooking yet, but they've definitely come in handy. We also brought back a slow cooker and I filled it with whatever spices I thought we would need.
I missed having a clock in the bathroom. For some reason, I need to know what time it is when I'm cleaning myself in the morning (or afternoon, as is often the case here). I took the clock from the bathroom of my house and put it in my travel bag. I also brought a little clock that we had in our spare bathroom, and it's next to my reading chair. I'm so happy!!
Last year, I worried about our mail. We signed up with the UPS store as an option and in November I secured a box at the store closest to us. I was starting to think that our forwarding was not working until yesterday when we had several things in our UPS box. Finally!! But there are still some things that are not forwarded. We left a key with a neighbor and he has checked our box once since we left.
Tim had shoulder replacement surgery in September and was going to physical therapy until the day before we left. He wanted to bring some weights and stuff so he could continue his rehab. But I think he's already come to the conclusion that he won't do it again.
Next year?
When we first got here, I was wondering if we should come back next year. Why do I let it cause me so much stress? I think some of that is because I'm very homely and like to be close to my "stuff". I can't sew or make cards while we're here. Although I have made progress in both knitting and cross stitch projects.
The other thing is my dad. I hate feeling like he left everything to my sister. We made some changes recently to his level of care that should make it easier to get out. (I don't have to fill your prescription boxes weekly.) We have applied for LTC benefits and I am the one who takes care of it. I called about his tax appointment in December so we're all set and I've done my best until the 1099's are turned in etc. I'm trying to tell myself that I need to take care of myself too and this trip is part of that.
We have looked at a couple of other options for next year, mainly because we would prefer a king size bed. But there are so many positives about this place that I hate to leave it. Unfortunately, we will have to make that decision before we leave in March.
Next time, I'll update you on what we've been up to since we got here. The weather is much better than last year. I can't complain about that at all!